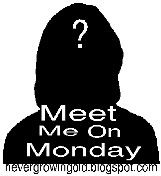 Meet Me on Monday is sponsored by
Java
of the
Over 40 Bloggers
and is a great way for folks to learn more about each other.
Questions are posted on Sunday and the bloggers post their answers on Monday.
Get it? Meet Me on Monday ...
Here goes:
Questions
:
1. What is your favorite pasta dish?
2. What is the last thing you do before going to bed?
3. How many nights a week do you go out to eat?
4. Are you an avid book reader?
5. Would you rather have x-ray vision or bionic hearing?
My Answers
:
1. My favorite pasta dish? I love ALL pasta dishes. I made a spaghetti alla puttanesca which I loved but the kids hated. Why? Because there is no meat in it. It's spicy and tangy with tomatoes, olives, garlic, anchovies, capers. It's quick and easy and I don't even care that the name literally translates into "whore's spaghetti".
2. The last thing I do before going to bed is to brush my teeth.
3. When I was part of a couple, I would eat out at least twice a week. Now, I may get out two or three times a month.
4. Yes! I am an avid book reader. There is nothing better than reading a good book. I just finished The Girl Who Fell From the Sky, by Heidi Durrow. Highly recommend this one.
5. X-ray vision or bionic hearing? Probably x-ray vision. I may see some things that I never wanted to see but if I had to hear everything that everyone was saying all the time, I'd blow my brains out.